---
January 2014: Cisco
---
Happy New Year from Cisco!

This friendly young man flew onto a nice lady's balcony after being chased by a cat. Somehow Cisco must have escaped his former home and got lost in the big outdoors. He was very lucky to be taken in and cared for until he could get to his new permanent home. We are very happy to welcome him as one of our latest flock members. Cisco is doing great amongst all other cockatiels. He is very active and outgoing..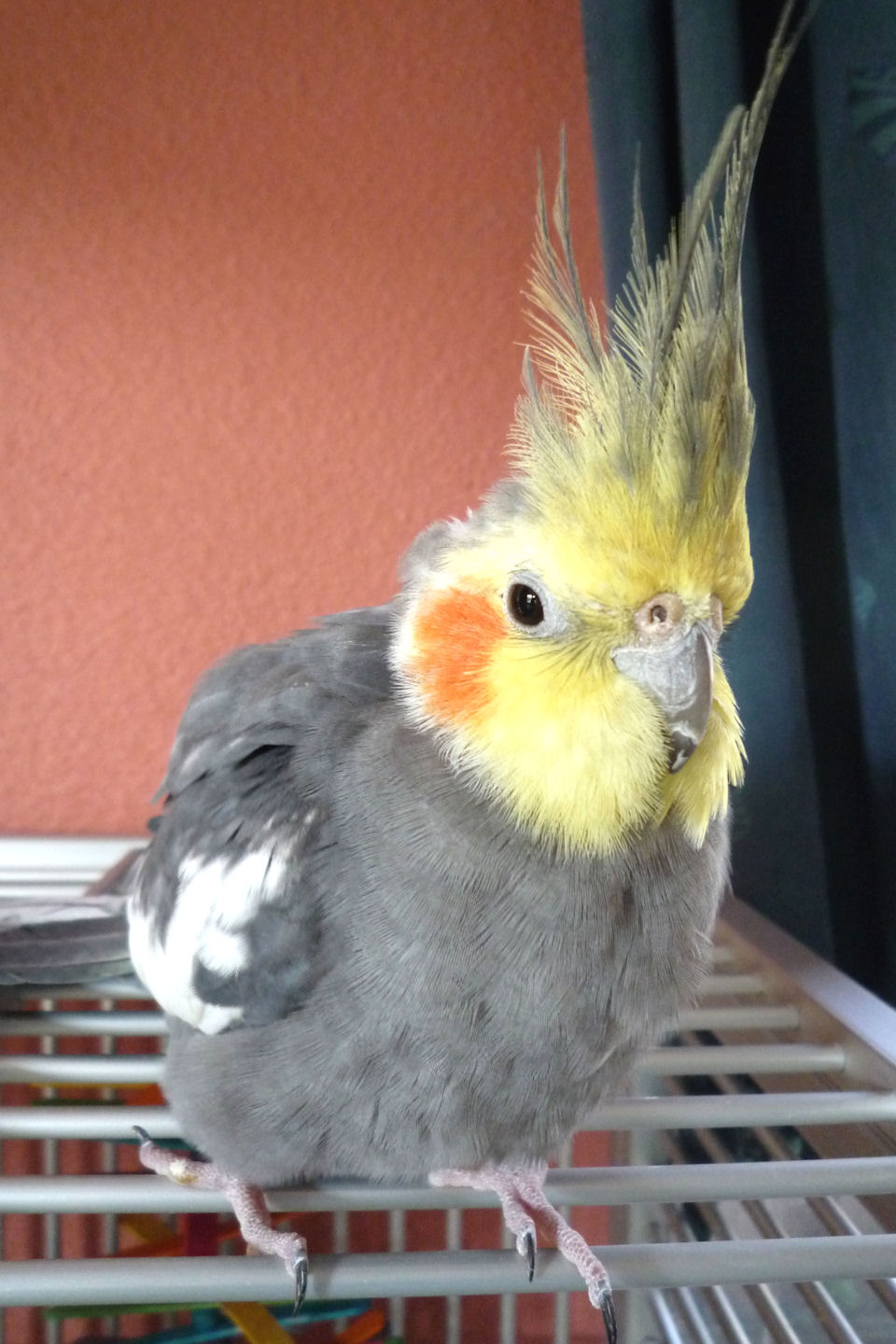 ---
November, December 2013: Precious
---
Happy Holidays from all of us at B2L House. Especially from Precious, one of our most recent intakes. This little fellow was taken in from a shelter. He is completely blind amongst other things. Despite his severe handicap and his poor condition we admire his strength and courage to life and his patience coping with not being able to see his new surroundings.

Birds like Precious bring tears to our eyes wondering how any human being could have let this go so far before reaching out for help. But, at the same time, birds like Precious keep us going in our quest to make this world a better place one bird at a time.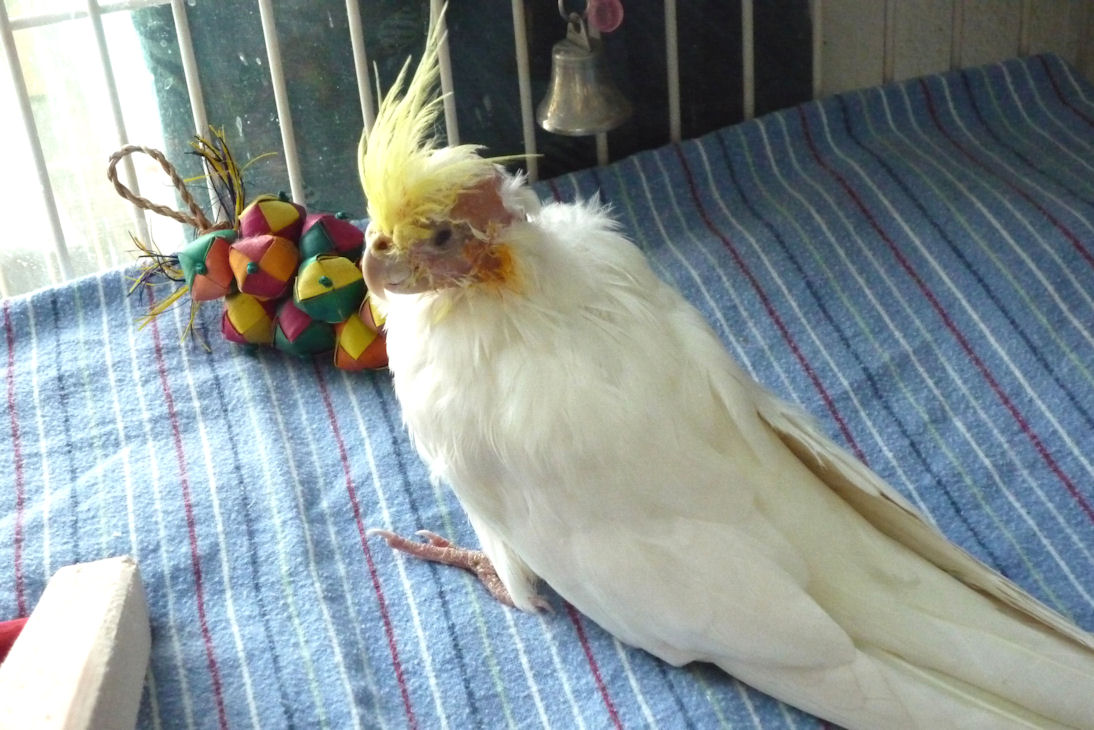 ---
August, 2013: Ester
---
Ester came to B2L House from less than perfect conditions. She must have had an accident a while ago resulting in the loss of her right leg. She is overall in mediocre shape with her eyes inflamed and swollen. Ester is on medication which will hopefully help her physical condition. We have to work patiently on Ester's mental state as she is very fearful of hands coming towards her. I can only imagine what the poor bird must have been through.

B2L House is always stepping up for birds like Ester who need us most.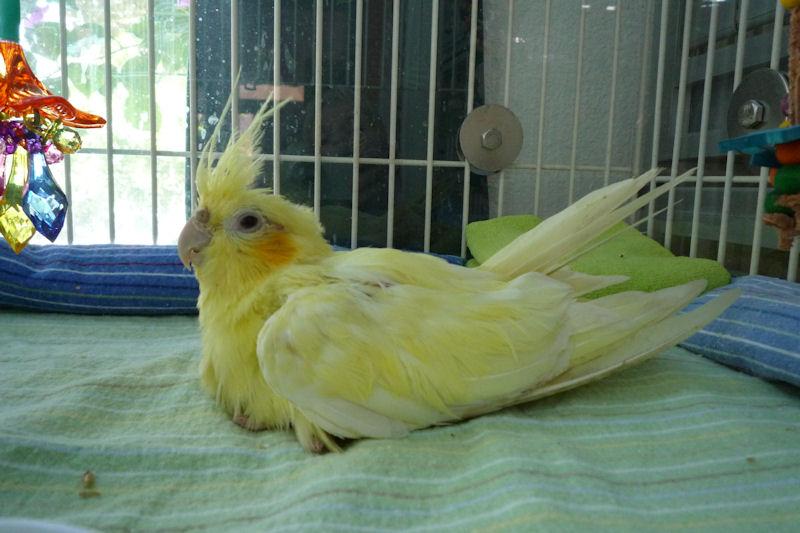 ---
April, 2013: Watusi
---
Greetings from Watusi! This little fellow was found as a stray in front of a store in Watsonville, CA. He became a Mickaboo bird (please check out our fellow companion bird rescue www.mickaboo.org) and is now adopted into B2L House.

Watusi has a history of dermatitis underneath his wing which is why he is sporting a fancy collar in this picture. With good management and some hormone shots he is collar free now enjoying lots of head rubs and kisses from his humans as well as cockatiel company from his special friend Chevy.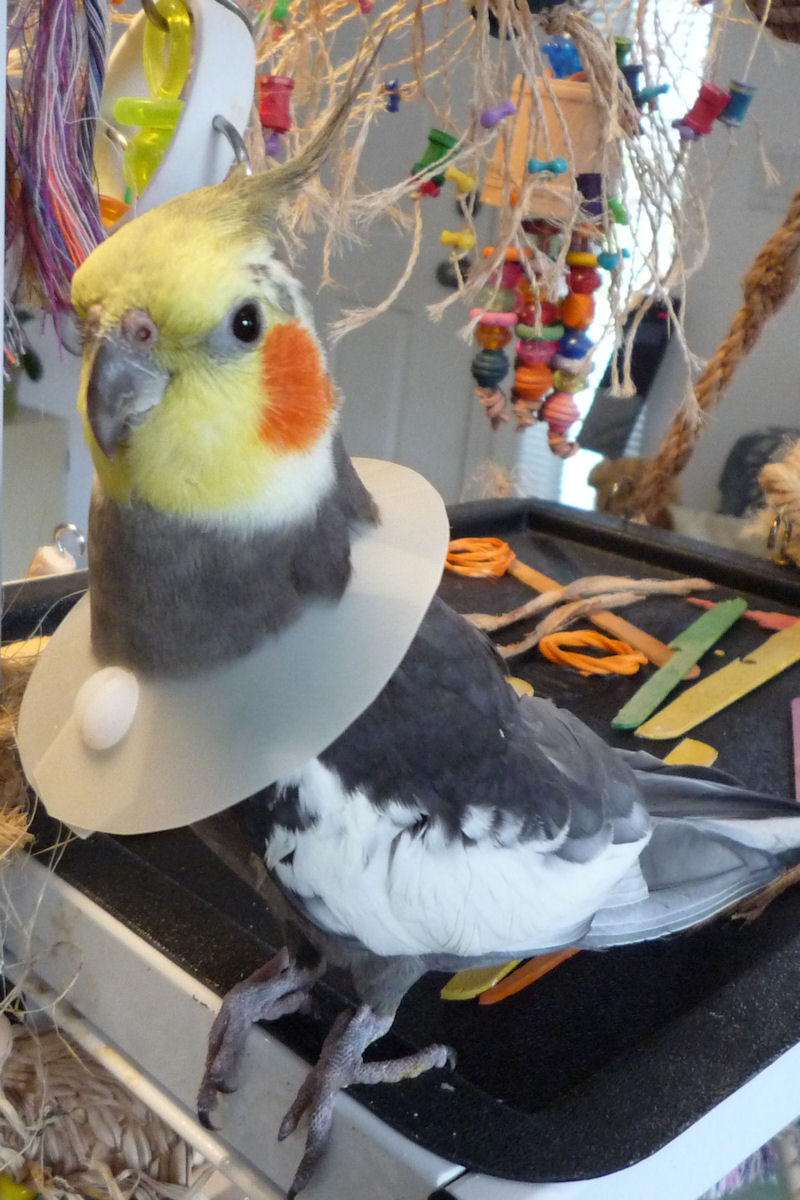 ---
Mar, 2013: Mrs. B
---
Please welcome Mrs. B as our latest flock member. She is a precious little girl who got into an accident with a large parrot biting her foot at her former home. Unfortunately the leg needed amputation. Mrs. B is adjusting well after a rocky road to recovery. She has made new cockatiel friends already..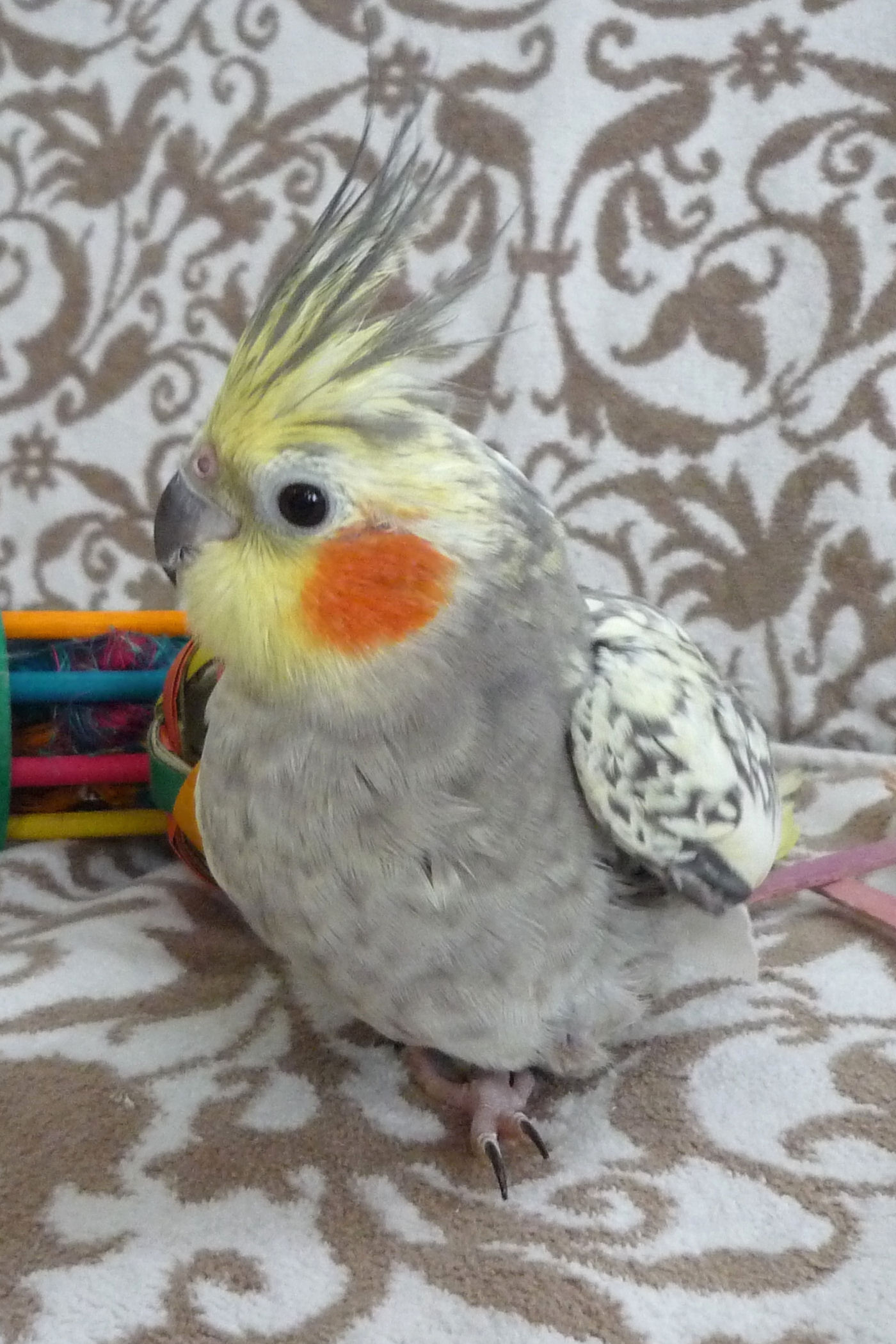 ---
Feb, 2013: My Valentine
---
Happy February from Pogo and Abby! We have been part of the B2L House Flock for the past seven years. Our mom adopted us after we got injured by a raccoon who ripped Pogo's leg out and shredded Abby's wings real bad. We spent weeks in intensive hospital care at the avian vet but as you can see we recovered very nicely. We are a perfect example of the B2L House mission - rehabilitating and caring for special needs birds.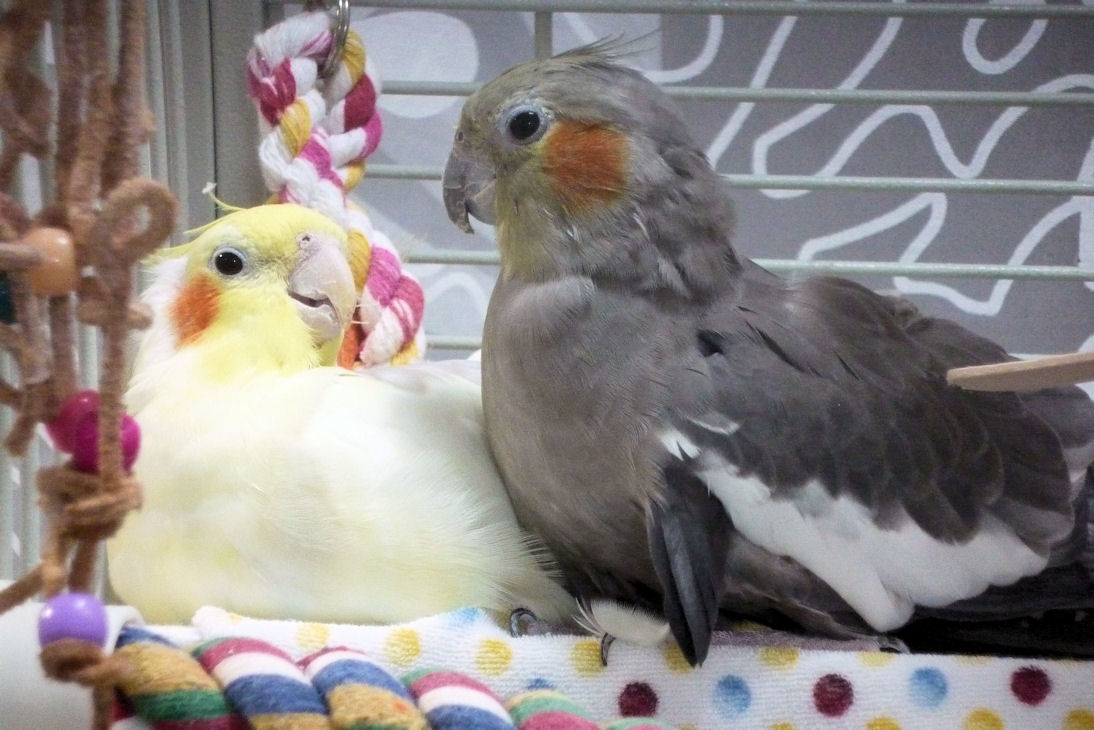 ---
Dec, 2012: Mickacoo Calendar Available
---
Pigeons and Doves make wonderful pets. B2L House is educating the public at adoption events in the Bay Area. We are featured with our pet Dove and King Pigeon Valiant on the September page of the new 2013 Mickacoo calendar. To order a calendar or learn about birds for adoption, visit the Mickacoo Facebook website.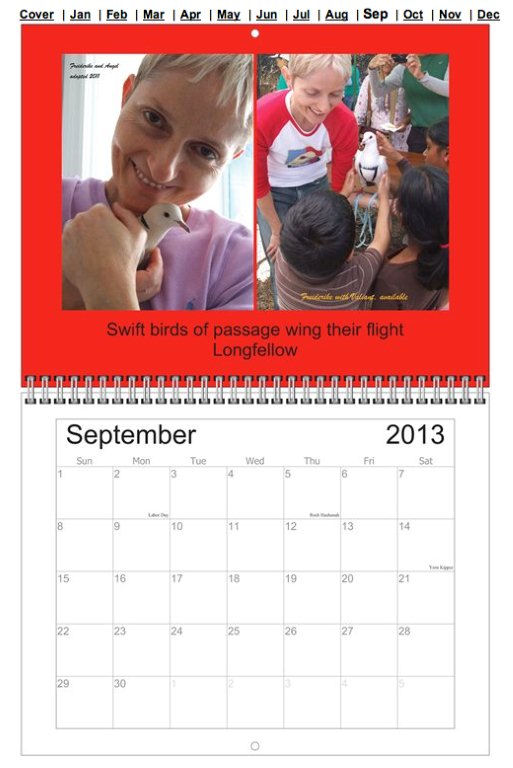 ---
Nov, 2012: Welcome Faith
---
Faith is the latest B2L House flock member. We adopted her from Mickaboo Companion Bird Rescue.
She is a sweet female with advanced metabolic bone disease which caused her legs to get completely deformed. She has multiple old fractures in her wings and back. We are working on rehabilitating Faith the best we can but this condition is not reversible. Our Vet bills have been high. Faith and B2L House would greatly appreciate your donation towards Faith's care.

If you are interested in adopting or fostering a healthy bird please visit the Mickaboo website at www.mickaboo.org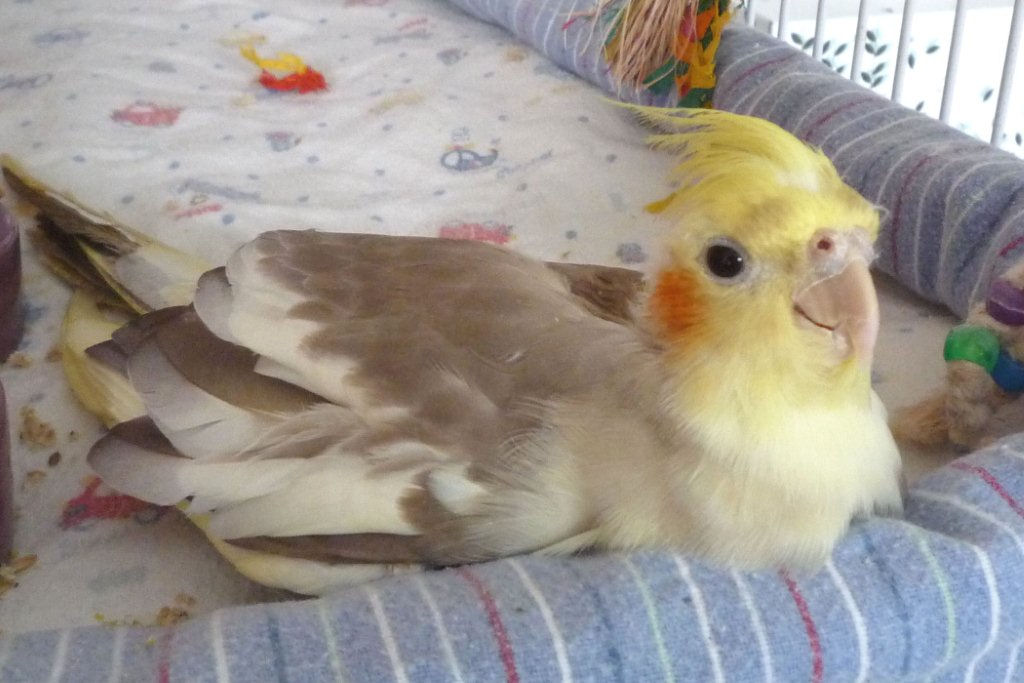 ---
Oct, 2012: Adoption Fair
---
Pigeons and Doves make wonderful pets. We are visiting with King Pigeon Valiant at a fellow rescue adoption fair. For more information on how to become a foster or adoptive parent for those lovely birds log on to www.pigeonrescue.org.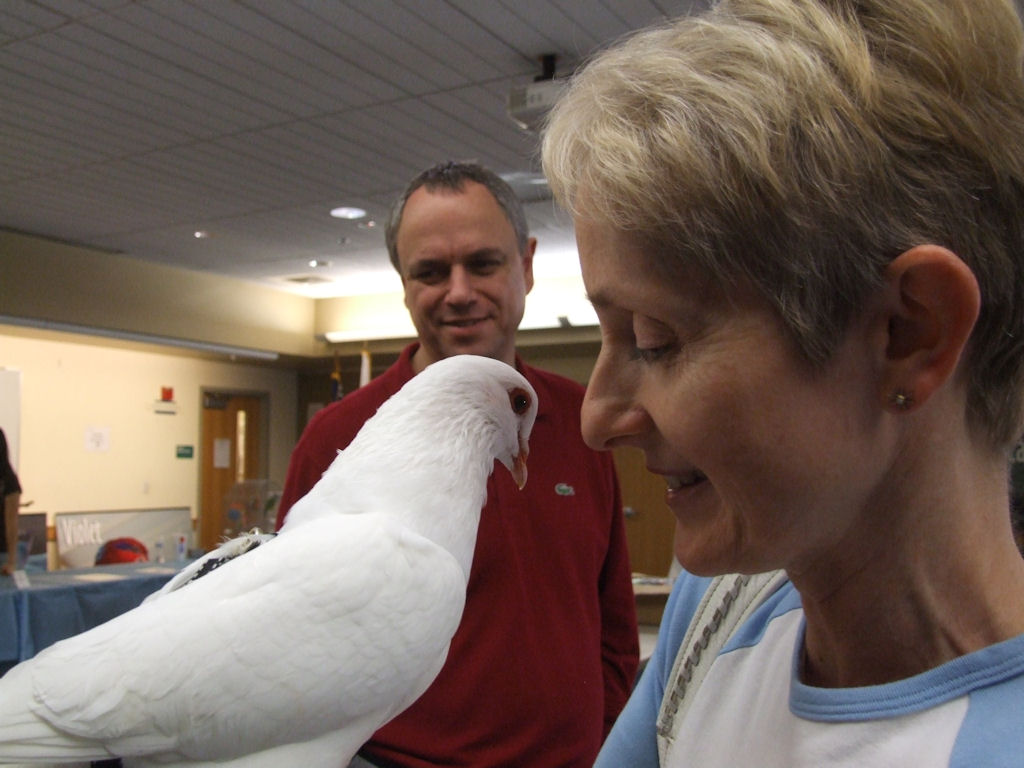 ---
Oct, 2012: Sunrooms and Aviaries
---
Cockatiel Lucia is getting some out time in our newly built sunroom/walk in aviary. Nyla Copp specializes in birdsafe, high quality custom aviaries. You can look at her website www.mybirdiebuddy.com to contact her.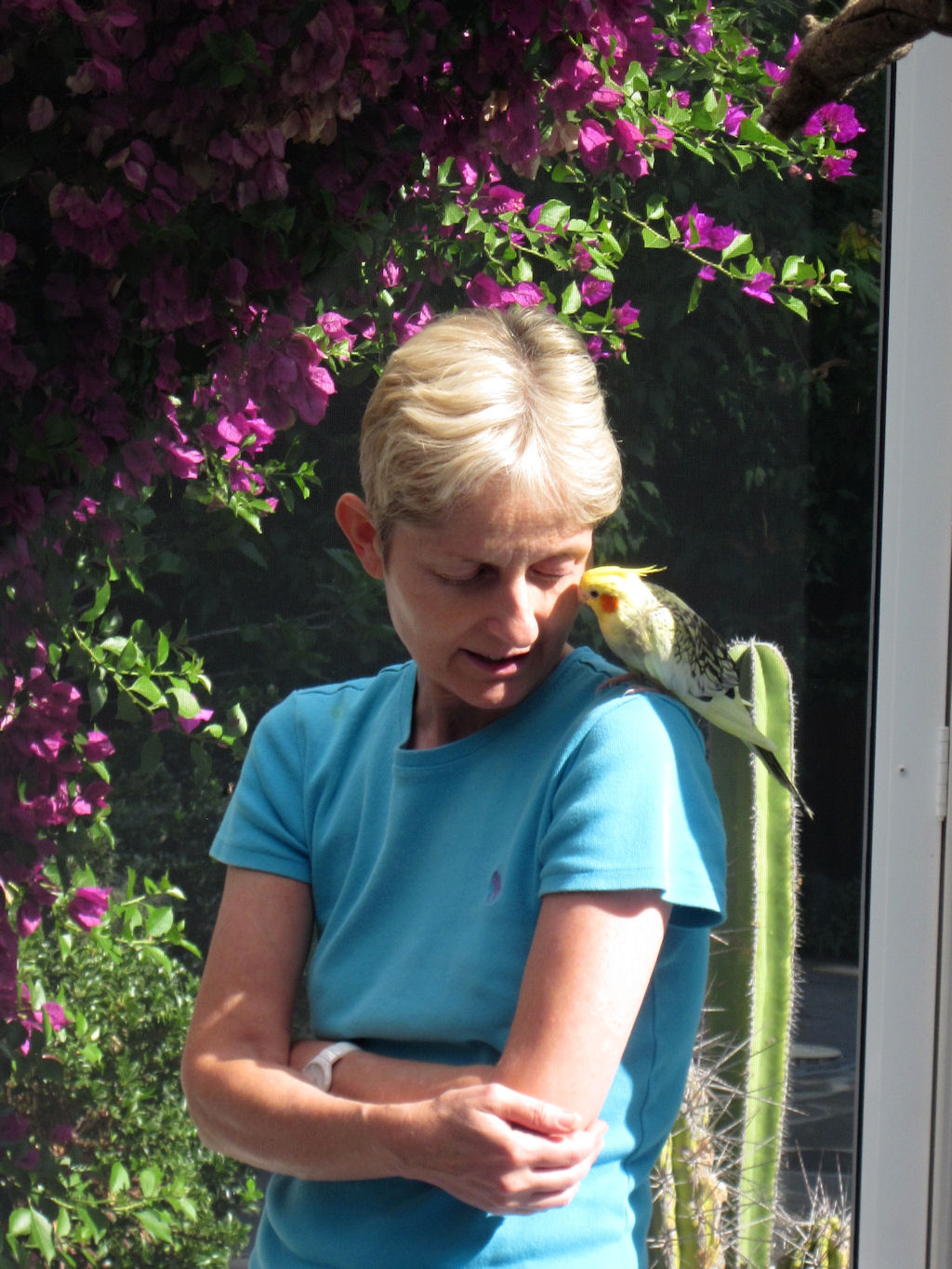 ---
Sep, 2012: Noel becomes a movie star
---
Noel, one of our cockatiels is featured in the movie "Life with Alex" due to her incredible ultra violet glow.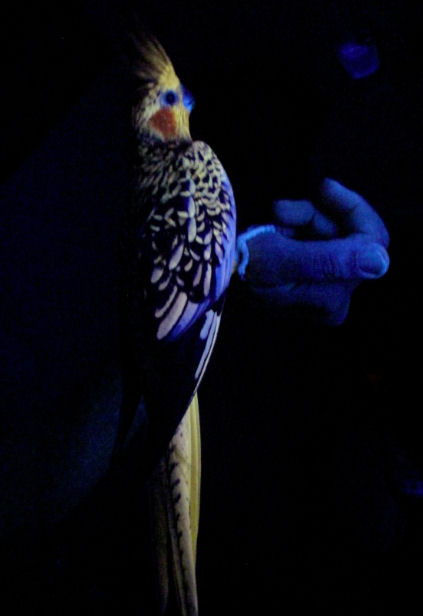 Photo by Emily Wick
---
Aug, 2012: B2L House is a 501(c)(3) public charity
---
We are very proud to let you know that it is official now. B2L House is approved as a 501(c)(3) public charity with tax exempt status.

B2, our first cockatiel, and his friend Lucy would be pleased knowing they gave their names to the Sanctuary and are probably watching over us from above.

Our website, Facebook etc. are still under construction. Please stay tuned for updates.

If you would kindly like to make a donation you can email us at donations@b2lhouse.org. You will receive a receipt for tax deductible purpose.

Also, we are looking for volunteers helping with everything from cleaning cages, basic bird care, feeding and medicating and technical computer support. If you or anyone you know is interested please let me know by email at volunteer@b2lhouse.org. Bird experience is welcome but not required as I will teach you.

Thank you for considering and for your continuous support.

Warm regards,

Friederike